Services - What To Expect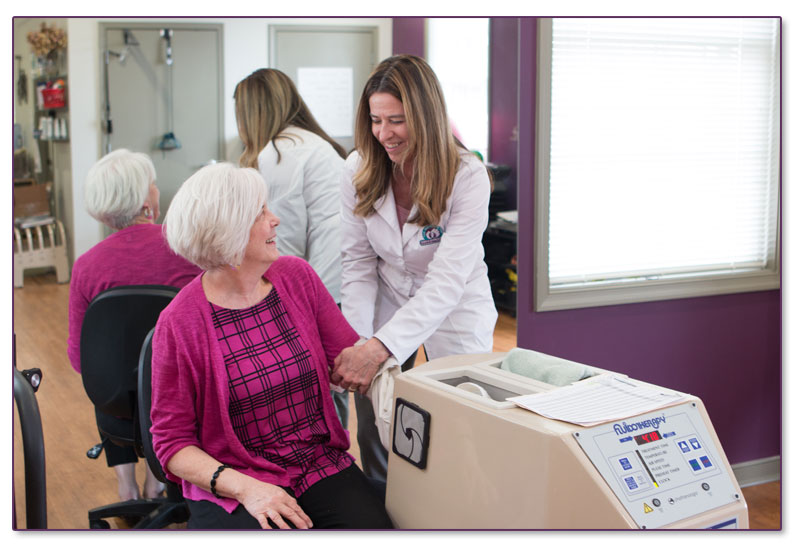 What to expect- Whether you were hurt at work, on vacation or just at home, we are able to help you through the rehabilitation process. From the first phone call, our staff is able to guide you and assure you that you are in the best hands. We will typically be able to see you within two days of your call to us. It is important for you to get started on the road to recovery and we understand that the process is sometimes a bit scary.
When you come in for your first appointment, the therapist will discuss why you have come to therapy and what you would like to achieve from therapy. Your motion, strength, soft tissue, sensation and function are assessed. We typically provide some therapy on the first day as well as provide a home exercise program. We are very willing to answer questions and provide support to assure you of a reasonable, realistic outcome.
Treatment may include the use of heat or other modalities to prepare tissue for exercise and/or reduce pain. A licensed therapist will provide hands on treatment as well as structure a program to improve strength, dexterity, scar conditions for better overall function.

Absolutely Wonderful
Testimonial: 2018-08-27
"Linda and her staff are absolutely wonderful. They are compassionate, caring, patient, supportive, professional and a delight to be around. Physical therapy is hard but I always looked forward to my sessions because we had fun and I knew I was receiving great care. I have a very complicated case and while seeing her after my third surgery I had to make the difficult decision to have a finger amputated.
She was instrumental in helping me make the right decision then recover emotionally and physically from the amputation. She is very knowledgeable and explained everything to me so I understood my injury, the healing process and how each exercise would help me.
Each patient gets one on one care every session and given a treatment plan tailored to them individually instead of just a standard set of exercises for a given injury. I highly recommend her for anyone needing hand or upper extremity physical therapy." - Dina P