Fitness Classes
As part of overall wellness, for patients and others, The Hand Institute offers alternative fitness classes on a convenient rotating schedule including yoga, zumba and our B.A.S.E. classes designed in house by Linda Stanley.
Targeted for adults 50 and above

ZUMBA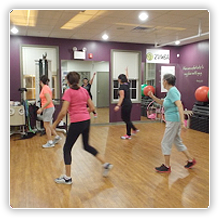 GET MOVING!!!
Our Zumba class is unique in that it is in an environment where no one is watching, making it a safe environment to learn. If you never get the steps, that's ok too. The most important thing is that you are moving and having a good time. Come out and meet the ladies who enjoy laughter, dancing and benefit with their cardiac health at the same time. Small class sizes in a comfortable environment. No experience needed, just bring your sneakers and your smile.
Zumba Classes are held every Tuesday evening at 6:00 pm. Cost is only $7 per class
YOGA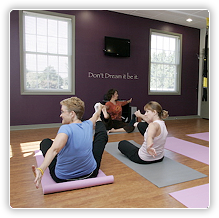 The benefits of yoga continue to grow.
While most of us know yoga helps improve flexibility of tissue, there are also known benefits for cardio vascular health. It is reported that the cardiac benefits are comparable to running or walking briskly. Our classes are designed to work on balance and flexibility while offering adaptations as needed for those who may have limitations due to physical limitations.
The class is designed to offer less weight bearing on the upper extremities to allow for those who are going through rehab to participate or if weight bearing on the arms is not in your practice due to any other physical problem. In fact, yoga is often recommended for patients with physical conditions such as fibromyalgia, arthritis, chronic pain, weight loss surgery candidates and anyone who needs to work on their posture. Posture tends to decline as we age and yoga can help prevent and reverse the effects aging has on posture.
Yoga Classes are held every Wednesday at 5:45 pm. Cost is $15 per class or six classes for $75
B.A.S.E.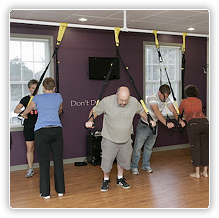 B.A.S.E. is an exercise class designed by Linda Stanley, an Occupational Therapist with over 30 years of experience.
The goals of the class are to improve and defer the negative changes our bodies experience as we go through our 50's and 60's. Connective tissue becomes less flexible, joints tighten, balance declines, cardiac endurance tends to be more challenging and physicians recommend exercise for people to manage overall health and maintain a healthy weight.
The class varies from week to week with emphasis on a variety of physical capabilities. "B" is for balance. The class incorporates tasks with support as needed to improve balance to help prevent falls. Fall risk increases as we age and can be prevented with challenging exercises that take you out of your comfort zone, but in a safe environment. "A" is for agility.
Quick moves may be a thing of the past, but you will be challenged to keep moving and work on quick motor fiber activation. This too is felt to help improve fall prevention. Young kids fall, then they get to a point where they trip and catch themselves. Older folks trip and have a difficult time catching themselves and have a higher risk of injury. Falls are the number one cause of hospital ER visits in people over the age of 65.
B.A.S.E. Classes are at 12:00 noon on Fridays and cost $15
Suffering with Tennis Elbow
Testimonial: 2018-08-27
"I knew after the second treatment with Linda that she would have me playing pickle ball again in a few months. I just had my 7th treatment and my elbow is almost pain free!" - Mary K