Diagnosis - What we do: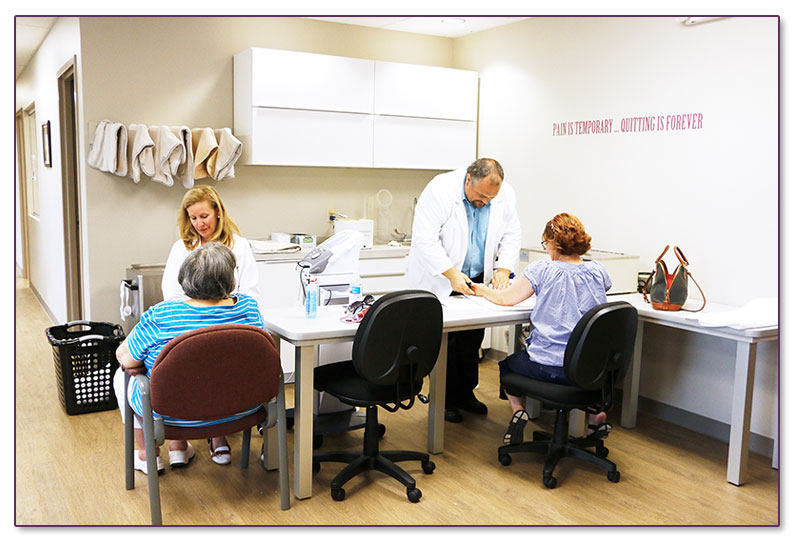 As certified hand therapists, we do a comprehensive evaluation to assess the individual needs of the patient. Just because you have a wrist fracture, doesn't mean you won't have a tight or stiff, painful shoulder to go with it. By tending to all areas of the upper extremity, treatment goals will be created to make sure all areas of patient concern are addressed with the treatment plan. For limitations in motion, we provide hands on therapy to improve the motion of areas that are limited due to immobilization, swelling, or weakness. Scar tissue and edema are treated with a variety of treatments including massage, compression, ice, elevation and education to assure there is good carryover at home, as well as modalities such as ultrasound.
Weakness in the hand or arm may be caused by nerve damage, disuse and atrophy or just the injury itself. We work on strengthening an area with activities and exercises to isolate and target specific muscles and obtain a better balance between weak muscles and strong ones. If appropriate a heavier strengthening program may be used or simulation of daily activities to help patients return to normal activities. We provide work simulated activities to best prepare the injured worker for returning to work.
Impaired sensation, such as paresthesia, numbness or just decreased sensibility is common with nerve compression or injury. Sensory limitations are addressed by educating patients to be mindful of limitations to assure safety. We also use sensory re-education to help re-train the hand to perceive sensation more normally. We work with patients to desensitize the extremity when they may be hypersensitive due to surgical scars, CRPS, and amputation among other things. Pain, while it can be challenging, is addressed with each patient in a very individual way. We use manual work, as well as modalities, such as electrical stimulation, ultrasound and laser. Pain may be due to a variety of reasons, some of which may have an emotional component. Each of our therapists have many years of experience as Occupational Therapists and have learned to identify and deal with emotional issues, making the appropriate referrals with the consent of the referring physician.
Emotional support
Emotional support throughout the rehabilitation process is the key to what sets us apart. As Occupational Therapists, we have the training and experience to help guide patients through the rehabilitation process. Occupational therapy takes a holistic approach to rehab. Each patient is treated as an individual, as their physical, social and emotional needs are all different.
Home programs and education
Home programs and education are a routine part of therapy. We offer ongoing coaching for patients who need a cheerleader in their corner. We also provide ongoing education as well as teaching for the overachiever. Overdoing it is not going to get them there any faster and can, in fact can cause a setback. Developing a relationship and creating a personal connection with each patient helps to jointly establish their goals. This in addition to celebrating patient accomplishments is part of why we are the most successful hand therapy practice in the area.
Excellent Experience
Testimonial: 2018-07-30 "Excellent experience. Cheryl definitely knew how to help me feel strong during such a weak time. Only complaint would be that often it seemed like Cheryl had way too many people scheduled at one time..felt like she was juggling everyone around and i sometimes had to sit there and wait. Not a huge deal but wish it was more 1 on 1 all the time." - Jennifer V.